The Orientation Year (zoekjaar) visa allows recent graduates from non-EU countries to stay in the Netherlands for a period of up to 12 months in order to seek employment. If extending your time in the Netherlands to work or travel is something you have on your mind upon graduation, the Orientation Year visa may be right for you.
Why complete an Orientation Year?
Studying in the Netherlands is definitely an advantage for your future career. Not only are you prepared for your future success, but you are also qualified to apply for a residence permit as a knowledge migrant — which is essential for you to have if you intend to follow a career in the Netherlands. The Dutch government is keen to offer this residence permit to people educated in the Netherlands in order to find a job after their studies. When a non-EU student completes an education program in the Netherlands, the graduate is eligible to apply for the Orientation Year visa within 3 years after graduation. Graduates are only allowed one Orientation Year, even if they complete multiple education programmes in the Netherlands.
This visa allows the graduate full working rights for 12 months from the day it is issued, without having to apply for an additional work permit. Obtaining this residence permit means having unlimited access to the Dutch Labour Market and time to find employment as a highly-skilled migrant. During this time, foreigners can work freely in the Netherlands. As the reduced standard salary is applied for highly-skilled migrants under this search year visa, internationals stand a higher chance of being employed by a company.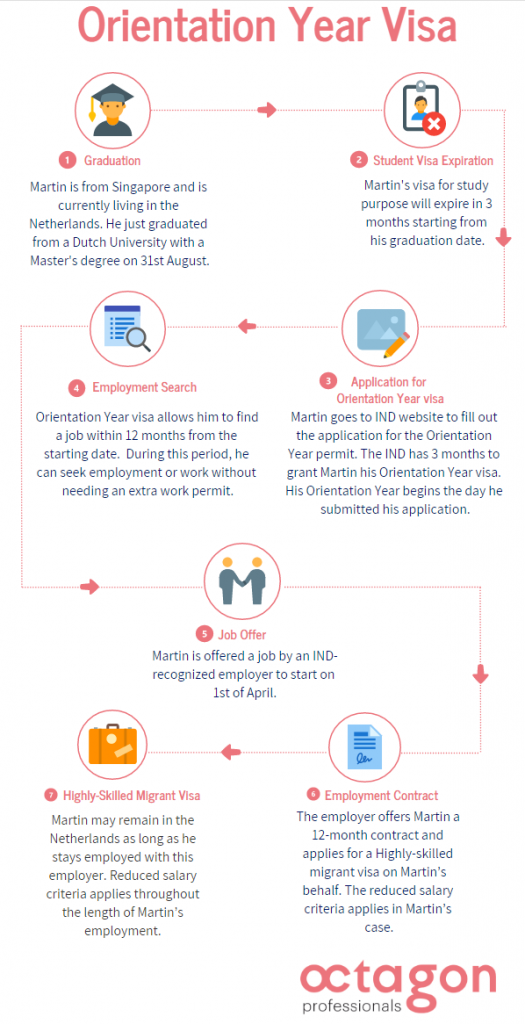 Application for Orientation Year
If you are currently in the Netherlands to study and intend to begin your Orientation Year immediately after graduation, we advise that you contact the Immigration and Naturalization Service (IND) prior to the end date of your studies. Do not allow your student visa to end before applying for your Orientation Year visa. The application process is relatively simple, but it can take up to 3 months for the decision to be processed.
If you wish to apply the orientation year for a knowledge migrant, the following conditions must be met:
You need to have a valid passport or other travel documents
You need to sign an antecedents statement
You need to take a TB test (exemptions possible)
If you cannot find a job before the expiry date of search year permit, you must change your residence status (apply for a new residence permit) or leave the Netherlands.
How to apply for your Orientation Year visa
If you are currently living in the Netherlands and have a BSN, you can submit the application for 'Orientation year for highly educated persons' online on the IND website.
If you are living abroad and wish to apply for this application, you will need to apply for a provisional residence permit (MVV). You can get an application form from a Dutch embassy or consulate.
Employment Contract During Orientation Year Visa
One thing you need to take into account when searching for a job is that your employer must be a recognized sponsor by IND. If you have found a job during your search year, your residence status will then change . Your employer should apply for a residence permit as a highly-skilled migrant on your behalf.
Switching to a residence permit as a highly-skilled migrant during an Orientation Year means a lower income requirement applies to you. If you found a job without needing an orientation year first, your employer can still make use of the reduced salary criterion. This minimum salary requirement continues to apply, even when switching to another employer or when turning 30 years of age. Only in case of a residence gap or change of sponsor, the reduced salary criterion does not apply.
Are you a student about to graduate?
If you are a graduate in the Netherlands and wish to seek international employment after your study, you can check out Octagon's available vacancies. As a recognized sponsor of IND, we can help with the process of "Highly-skilled Migrant" visa application if you find employment through our portal.
---