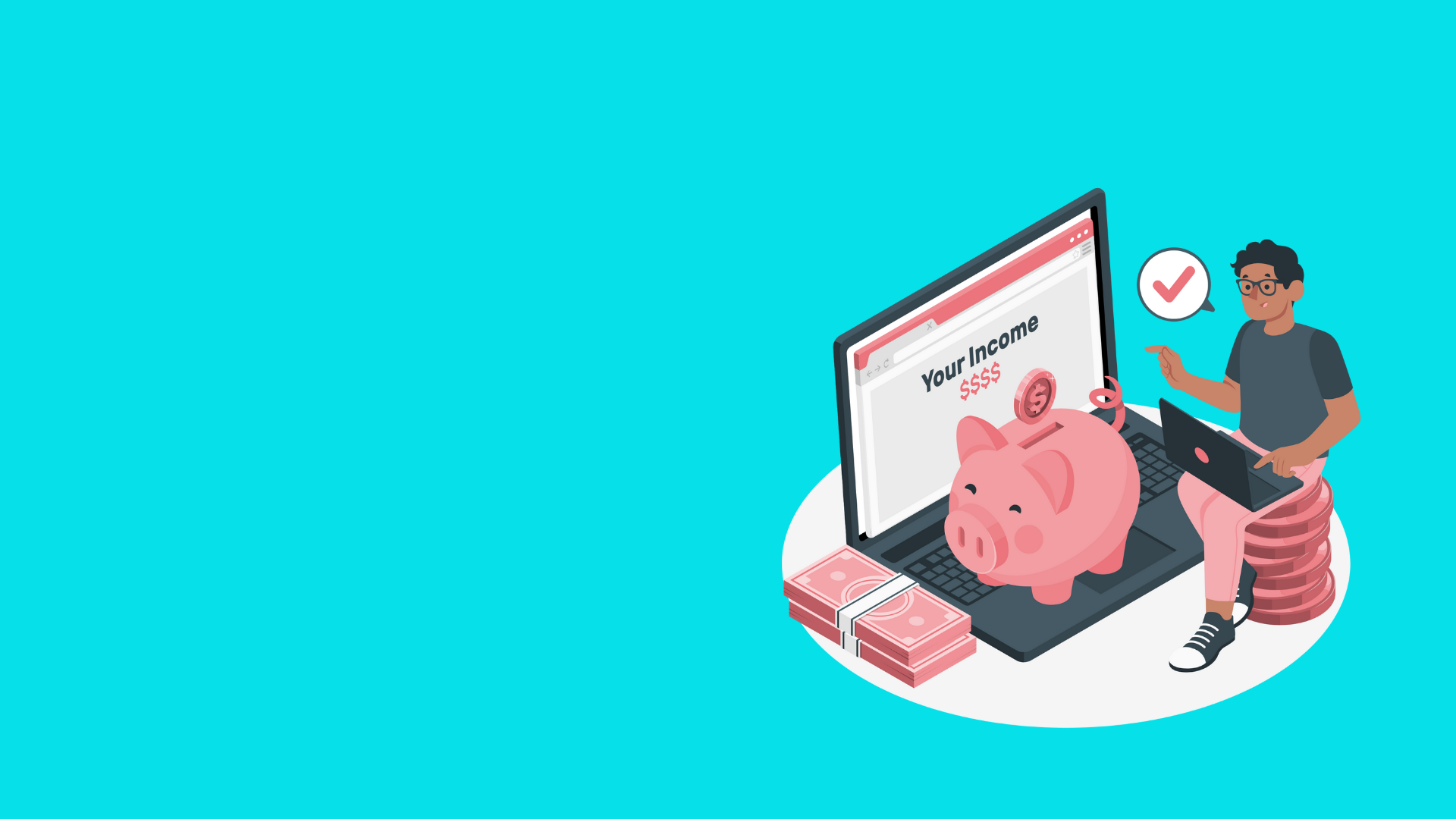 Talent makes all the difference when it comes to the success of your business – especially in a foreign market. In order to attract (and retain) the talent you need to grow your business, it is important to understand the expectations of workers in the Netherlands.
Salary averages can serve as a starting point in determining the right compensation strategy for your business. Although there are many factors that can impact the value of a role – including the level of relevant experience of an employee, their education, and overall demand for their skills – your industry is also one of the leading indicators to help you determine market standards. Working with an HR firm can help your business identify (or validate) the insights your business needs to develop a fair, and competitive, compensation strategy.
We wrote this guide to help employers and job-seekers alike understand the monetary value of all types of skillsets across the Netherlands. The below salary ranges were calculated using Netherlands-specific data from PayScale and LinkedIn salary insights. These ranges consider all industries/sectors and levels of experience for the role.
Navigate to a specific position here:
Financial positions
Financial Analyst (Corporate Financier) (Junior – Mid levels)
Corporate financing is concerned with capital structures of a company, and overall, how a company funds itself in order to maximize value to shareholders. The specific named role of "corporate financier" is not especially common in the Netherlands – but many of the functions are performed by Financial Analysts.
Salary Range: €32,000 – 68,000
 
Financial Advisor (Financial Planner) (Mid – Senior levels)
The financial advisor takes the analyst's insights to the next step and provides actionable plans or long-term strategy for a company. It is common in the Netherlands for either of these roles to be contracted out to a financial institution as consultants, however some businesses require these skills in-house. As such, these roles generally receive additional commission based off the results of their advice.
Salary Range: €25,000 – 49,000
Loan Officer (Underwriter) (Junior – Senior levels)
This role generally only exists in the financial/insurance sector. Loan officers evaluate and assess the inherent risk of borrowers while performing assistance throughout the process. Standardly, only certain banks in the Netherlands actually use the title "Loan officer." Titles with "analyst" in the title for any financial company will likely be the closest match.
Salary Range: €28,000 – 65,000
Accountant (Financial Controller) (Junior – Senior levels)
Accountant performance is generally measured through knowledge, accuracy (and eventually) efficiency of reporting. Career accountants hone their skills in accountancy, or move into other financial control roles based off their accountancy knowledge. Accountancy knowledge is not generally limited by the industry or sector, except in highly regulated areas, such as banking.
Salary Range: €30,000 – 77,000 
Investment Manager (Junior – Senior levels)
Investment managers are concerned with identifying and developing investment strategies for a company. Unlike the financial advisor who focuses their efforts on long-term strategy and managing the company's current financial situation, the investment manager is mainly focused on developing and managing the company's investment portfolio.
Salary Range: €40,000 – 121,000
Sales positions
Sales Manager (Mid – Senior levels)
The role of a sales manager can vary significantly between businesses. Sales managers that work for businesses with integrated sales strategies will be responsible for overseeing the various sales teams. Businesses with a smaller, more focused sales team will be responsible for the results of sales representatives. The below range includes base pay and additional commission.
Salary Range: €32,000 – 153,000
Business Development (Mid – Senior levels)
Business developers are responsible for creating and implementing activities that grow the business. A business developer's actual work can entail anything from identifying new markets or customers, to building professional relationships outside the organization, or developing new processes within the company. A business developer's salary is highly dependent on the industry in which they work and they the type of activities required in order to grow the business. Highly saturated industries usually pay their business developers higher rates – especially if they have already established a network. For-profit businesses tend to have a commission-based payment structure, whereas non-profits make up for this with higher base pay.
Salary Range: €34,000 – 102,000
Inside sales representative (Junior – Mid levels)
Inside sales specifies a form of selling done over the phone or through the use of software (as opposed to face-to-face or through events). In the Netherlands, the person doing this type of selling may be called an 'Inside Sales Representative' or 'Sales Development Representative.' Inside sales is a very common "starting job" for aspiring sales reps, but presents a career path in larger businesses with dedicated inside sales teams.
Some businesses choose to offer additional compensation to inside sales reps who exceed their targets – though this offering is absolutely not standard. The below range indicates their base pay.
Salary Range: €24,000 – 53,000
Account manager (Junior – Senior levels)
In business-to-business settings, account managers are responsible for maintaining relationships with existing clients. In certain industries, account management can also be likened to "customer success" roles – which focus on optimizing the overall customer experience. Account management is a very common "starting job" for aspiring sales professionals, but there are also opportunities to build a career in account management.
It is not uncommon for account managers to have their own sales targets – though this depends on the company. Companies that do have targets generally offer additional compensation to account managers that are able to exceed those targets. The below range indicates base pay.
Salary Range: €26,000 – 68,000
Marketing Manager (Mid – Senior levels)
A Marketing Manager is mainly responsible for creating awareness and the promotion of a product, service, or brand. They ensure that the company is communicating the right message in order to attract customers and build the business' reputation.
Salary Range: €30,000 – 88,000
Engineering positions
Software Engineer (Junior – Senior level)
Software engineers focus on applying engineering principles to software development. The title of "software engineer" is an umbrella term that contains many different roles – all related to the programming language required. These engineers are generally expected to have broad experience with programming languages, but can create a career by refining their skills in a language and/or learning new languages. In the Netherlands, "software engineer" is a commonly applicable title, or the engineer will include the language of specialization in their title.
Salary Range: €30,000 – 72,000
Computer Engineer (Information Technology Engineer) (Junior – Senior level)
Computer engineers are generally responsible for managing and/or designing both the hardware and software that make up the IT infrastructure of a company. In the Netherlands, the title "computer engineer" is less common than one related to "Information Technology."
Salary Range: €23,000 – 80,000
Data Engineer (Information Engineer) (Mid – Senior levels)
In the Netherlands, the practice of collecting, storing, and preparing data for analytical or operational use is known as "data engineering." Data engineers are usually a part of the IT team and are responsible for the business' "data warehouse" and (when applicable) preparing data for business intelligence uses.
Salary Range: €33,000 – 72,000
Industrial Engineer (Process/Systems Engineer) (Junior – Senior level)
Industrial engineers are responsible for optimizing complex processes and technology systems in order to maximize cost savings. In the Netherlands, there's no standard title for this position. An engineer focused on this work may be referred to as a "process engineer," "systems engineer," "mechanical", "manufacturing", etc., depending on the specific process or system the engineer will work with.
Salary Range: €34,000 – 105,000
Mechanical Engineer (Junior – Senior level)
Mechanical engineering is one of the most diverse fields of engineering. Mechanical engineers generally work with mathematics and physics, rather than computer languages, to solve problems. In the Netherlands, mechanical engineers namely work in the automotive, aerospace, manufacturing, and automation industries.
Salary Range: €29,000 – 62,000
Consultancy/Business support positions
Recruiter (Talent acquisition specialist) (Junior – Senior level)
Recruiters are responsible for identifying and hiring new employees for a business. They will usually be involved throughout the entire hiring process – including gathering requirements from managers and facilitating interviews. Career recruiters will often build and maintain their own professional network, which can increase their value. In the Netherlands, people who work for recruitment agencies are normally referred to as "recruiters." However, businesses who prefer to hire this skillset in-house would normally refer to the role as "talent acquisition specialist."
Salary Range: €23,000 – 59,000
Human Resources Representative (Junior – Senior level)
Human Resources (HR) representatives are responsible for managing and overseeing the administrative needs of employees – including staff benefits, payroll, implementing recruitment strategies, creating internal policies, and leave management. In recent years, the role of Human Resources has grown to include performance evaluations, and employee retention initiatives as the importance of the employee experience has become more important at work.
Salary Range: €25,000 – 65,000

Legal Consultant (Mid – Senior levels)
Legal consultants are generally contracted or hired via a third-party legal consultancy firm. In the Netherlands, businesses operating in highly regulated fields generally have their own legal representative hired in-house. There are many different branches of law, and a legal specialist can grow their career by developing their knowledge of law through experience.
Salary Range: €33,000 – 89,000
Business Analyst (Junior – Senior level)
Business analysts are responsible for identifying and assessing the needs of a business – most commonly in order to facilitate change, or predict the impact of change. This role usually involves market research and evaluating business processes, outlining problems, and then offering opportunities and solutions for a business. This role is commonly contracted out and hired via management consultancy firms.
Salary Range: €30,000 – 69,000

Average salary by age in the Netherlands
On average, the leading indicator of how much a person earns in the Netherlands is determined by age (as it correlates with level of experience). While expats working in the Netherlands don't always follow this trend, a worker's age is one of the better indicators of pay expectations.
The graphic below illustrates the average salary by age in the Netherlands: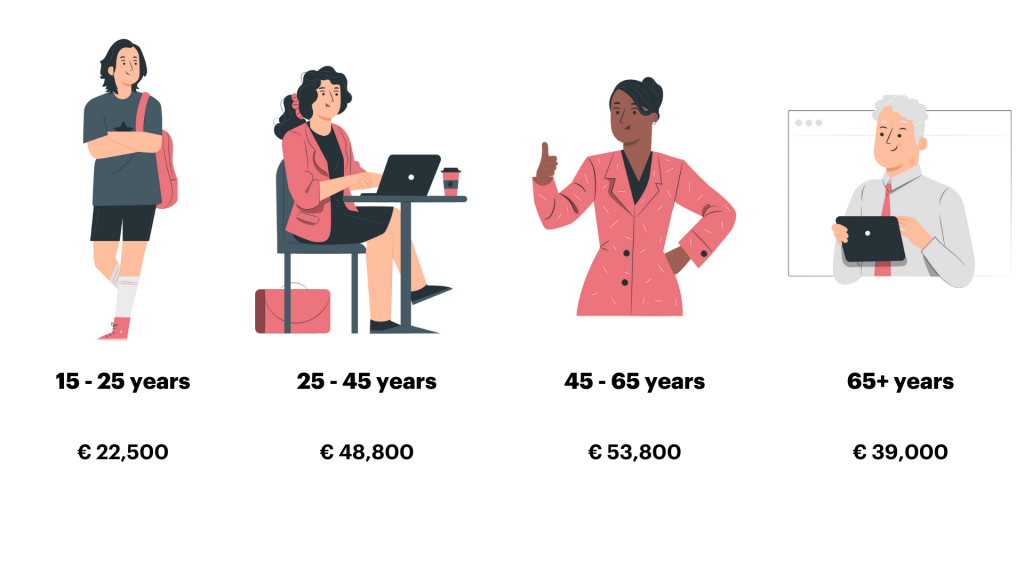 The legal minimum wage in the Netherlands is different by age and revised every January 1st and July 1st by the Dutch labour law. By law, everyone working in the Netherlands between the ages of 15 and official pension age is entitled to the Dutch minimum wage. You can read more about the minimum wage here.
---