You finally got the call to your dream job in the Netherlands, and it's time to crack open a bottle of bubbly. The next step of your adventure awaits: moving abroad. To help you prepare for your move to the Netherlands, we put together a checklist for your relocation when you arrive at the Lowlands.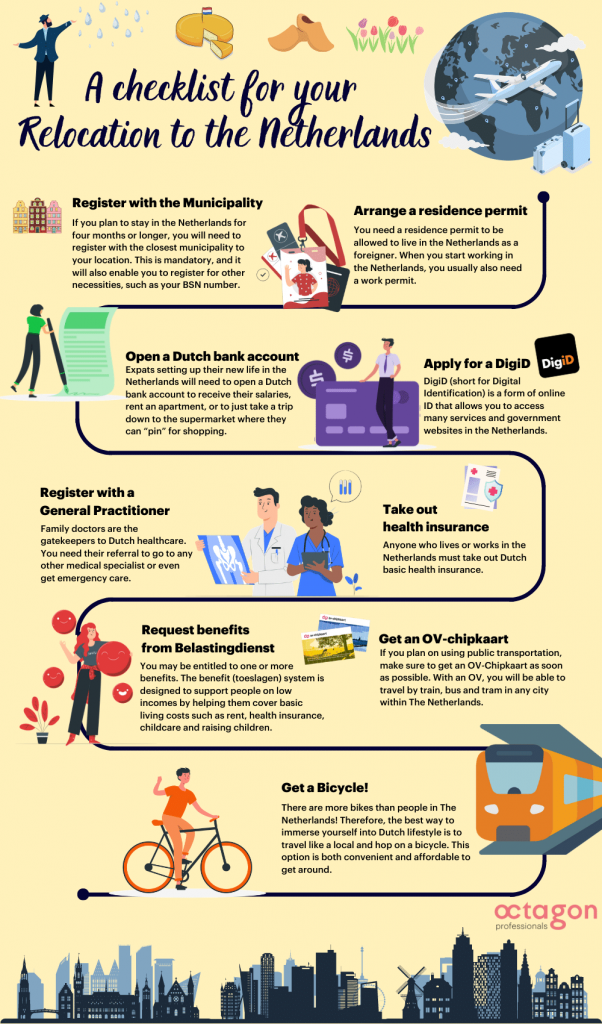 Arrange a residence permit
You don't need a residence permit to move to the Netherlands if you are from an EU member state (or Norway, Switzerland, Iceland or Liechtenstein). However, if you are a non-EU/EEA national, you will need a residence permit or work permit to live and work in the Netherlands (for more than 90 days).
Register with the Municipality
After obtaining your residence/work permit, you will need to register with the municipality (gemeente) you live in.
Most gemeenten require you to register within five days of arriving in the Netherlands. That's why you should contact your gementee before your arrival and request an appointment for "registration from abroad" (inschrijven vanuit het buitenland). When your appointment is set, you will receive a confirmation by post or email which will list the documents you need for your registration appointment.
If you're planning to arrive before you have a fixed address, plan to register as soon as your rental contract is finalized. When in doubt, you can always contact the municipality for advice about how to register.
Documents needed to register:
Your valid passport or ID card (not a driving license).
Your residence permit (if applicable, either a sticker in your passport, a plastic ID card, or letter from IND).
Your rental contract.
A certified copy of your birth certificate.
Your foreign marriage certificate, certificate of registered partnership, or divorce (if applicable).
Useful links to resources: Registration in the Netherlands
Open a Dutch bank account
Setting up a bank account is essential no matter where you live – you'll need it to be able to receive the salary, rent an apartment, or go shopping.
Fortunately opening a bank account is as easy as walking into your nearest branch or making an appointment online. Most banks in the Netherlands will also be able to provide their most important services in English.
Biggest banks in the Netherlands
Useful links to resources
Apply for a DigiD
Upon your registration with the municipality (gemeente), you will receive your BSN (burgerservicenummer) to be able to sign up for your DigiD. DigiD is your online identification which gives you access to governmental organizations and other services such as:
Health insurance companies
Hospitals
Various other insurers like car insurance
Pension funds
UVW unemployment agency
DUO for students
KvK Chamber of Commerce 
Apply for a DigiD here: https://www.digid.nl/digid-aanvragen-activeren
Take out Health Insurance
Everyone who lives in the Netherlands is required to have health insurance. If you're moving from outside the EU/EEA, one of the first things you'll need to do is get started on a Dutch health insurance policy. Even if you have an existing policy from your home country, you'll be required to take out a Dutch insurance plan within the first four months of registering.
Register with a General Practitioner
In the Netherlands, you are required to register with a general practice (huisarts) in your area in order to get access to medical care. This should be the first point of contact if you have a health complaint that is not an emergency. Appointments with your general practice are always covered by basic health insurance. In case you need a specialist for your medical problem, you will need a referral letter from your general practice to book appointments. This includes mental health professionals. If you decide to see a psychologist or psychiatrist without a referral, your insurance will not cover your session.
You can find all the GPs in your area here. This website is in Dutch, but it is quite easy to understand. Fill in your postal code and click on the banner that says 'Zoek Huisartsen'. There you can select the general practice of your preference.
Request benefits from Belastingdienst
The Dutch government provides financial aids to support low-income households and individuals with basic needs such as rent or healthcare. This benefit (toeslagen) system is available for citizens and residents in the Netherlands, mostly via the Dutch tax office (Belastingdienst). There are four different types of allowances in the Netherlands:
Get an OV chipkaart
OV-chipkaart is the travel pass for the train, bus, tram, and metro services throughout the country. The chipkaart is the Dutch way to limit the waste of paper tickets – and it's way more convenient if travel regularly with public transport. There are two types of OV-chipkaart, which are an anonymous card and a personalized card. With the anonymous card, you can purchase this at any train station, tobacco shop, and supermarket. To order the personalized one, you would have to be registered in the Netherlands and have a BSN number. The most important tip for using your public transport chip card is to always remember to check in and check out! 
Get a bicycle
It may come as a shock to you, but there are more bicycles in the Netherlands than there are people. While the population is just under 17 million, approximately 22.7 million bikes can be found across the country. It is impossible to separate the Dutch out of their bicycles. Superpower in real life can actually be demonstrated by Dutch people talking on the phone, changing their clothes, carrying an IKEA bed frame while cycling through town! Biking in the Netherlands is a way of life. Biking is not only a convenient way of transport, but it is also affordable.
That's a quick checklist to follow when you make the big move to the Netherlands. We hope you can take the headache out of relocation with this checklist and have a smart, stress-free move. If you are still looking for a job for you or your partner, have a glance at our vacancies! We wish you all the best during your stay in the Netherlands!
ABOUT US
Are you moving to the Netherlands with your business? Octagon Professionals offers international deployment and immigration services for employers with skilled professionals from outside of the EU/EEA and Switzerland. Octagon is a recognized sponsor of the Immigration and Naturalization Service (IND) and can facilitate applications for Dutch expat benefits for your business. Learn more about our comprehensive international deployment services here.
---